Spatial and temporal biodiversity variations in a high mountain environment: the case of the proglacial margin of the Evettes, Natura 2000 area (Savoie, French Alps)
The aim of this paper is to contribute to the understanding of the changes in plant cover after the recent glacier retreat, in an alpine environment. The selected study site in Savoie in the French Alps (2502-2509m asl), belonging to the European network Natura 2000, provides favourable conditions for the study due to the flat glacier foreland, where the glacier did not advance since the Little Ice Age. Data collected from 110 botanical plots were correlated with dated glacial and proglacial landforms. Species diversity has been analysed using the Shannon-Weaver index, the Grime classification, and the uncommon species described in the European list of Natura 2000 European Network. Classical and multivariate analyses have been made to determine the impact of the glacial retreat on the biodiversity variation. We show that the changes in species richness and vegetation cover were related to the distance from the glacier front. The biodiversity index was less than 2.5 near the glacier but above 4 at the furthest point. The highest plant diversity, however, was observed at an intermediate position, where competitive and pioneer plants were equally represented in the field. This location, concurrently, showed the highest heterogeneity in the activity of periglacial processes. It seems that the most heterogeneous and disturbed soils, due to inherited deposits and currently active periglacial processes, are responsible for an increase in biodiversity.
L'objectif de cet article est de contribuer à la compréhension des changements en cours dans un environnement alpin, au front d'une marge proglaciaire, en relation avec un retrait glaciaire. Le secteur étudié correspond à la plaine proglaciaire du glacier des Evettes, situé en Savoie dans les Alpes françaises, vers 2500m d'altitude. Ce site appartient au réseau Natura 2000. Les conditions écologiques locales ont permis l'élaboration d'une vaste plaine proglaciaire en raison du retrait du glacier depuis la fin du Petit Âge Glaciaire (stades de retrait jalonnés depuis 1860). Les données collectées reposent sur l'échantillonnage floristique sur 110 placettes dont les résultats ont été analysés statistiquement avec plusieurs paramètres : la distance par rapport au front glaciaire actuel (et donc l'âge depuis la déglaciation), le contexte morphopédologique, la diversité spécifique déterminée à partir de l'indice Shannon-Weaver, la classification du type de stratégie dite de Grime et la valeur de la rareté de l'espèce lorsque celle-ci est signalée dans les listes du réseau européen de Natura 2000. Des analyses univariées et multivariées ont été appliquées afin de déterminer l'impact du retrait glaciaire sur la variation de la biodiversité. Si l'on aboutit très classiquement à la démonstration qu'il y a augmentation globale de la biodiversité en allant du front glaciaire actuel vers la marge la plus externe, notre étude prouve que la biodiversité la plus élevée concerne un point intermédiaire. Cette position correspond en réalité au secteur où les conditions locales périglaciaires permettent la cohabitation de plantes à la fois pionnières, rudérales et compétitrices. A terme, cette activité périglaciaire, ici responsable de l'augmentation de la biodiversité, est pourtant en régression sous l'impact du réchauffement.
Fichier principal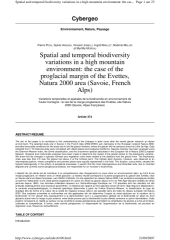 CybergeoPech2007.pdf (1.25 Mo)
Télécharger le fichier
Origin : Publisher files allowed on an open archive