Du système mercantile à l'ordre diplomatique : les ambassades entre Égypte mamlūke et Yémen rasūlide (VIIe-IXe/XIIIe-XVe siècle)
From the Mercantile System to Diplomatic Order: Embassies between Mameluk Egypt and Rasulid Yemen (7th-9th/13th-15th centuries) From the middle of the 13th century to the beginning of the 15th century the rapid expansion of the mercantile system of the Karim in the Red Sea was concomitant with the establishment of a new diplomatic order, made up regular diplomatic relations, with stable and codified forms, between the Mameluk Ssultan of Egypt and the Rasulid Ssultanate of the Yemen. Working from systematically catalogued accounts of embassies found in Arabic Yemenite-Arab and Syrian-Egyptian sources, this article examines the importance of diplomatic presents coming from both parties, their political meaning with reference to the different rapports de force as well as their purely economic dimension. The study of this relationship between the Mamelukes and the Rasulides is an invitation to reconsider the relationship between commercial and non-commercial exchanges with reference to a "diplomatic order" established in the wake of a pre-existing mercantile system.
Du milieu du XIIIe siècle au début du XVe siècle, l'essor du système mercantile du Kārim en mer Rouge s'accompagne de l'établissement d'un nouvel ordre diplomatique, fait de relations diplomatiques régulières, aux formes stables et codifiées, entre le sultanat mamlūk d'Égypte et le sultanat rasūlide du Yémen. À partir du relevé systématique des récits d'ambassades dans les sources arabes yéménites et syro-égyptiennes, l'article étudie la place centrale des cadeaux diplomatiques échangés de part et d'autre, leur signification politique en fonction du rapport de force et leur dimension proprement économique. L'étude du cas mamlūko-rasūlide invite ainsi à revisiter la question du rapport entre échange marchand et échange non marchand en considérant un " ordre diplomatique " établi dans le sillage d'un système mercantile préexistant.
Fichier principal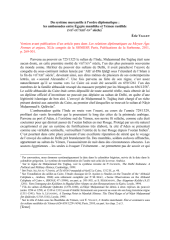 Ambassades.pdf (615.71 Ko)
Télécharger le fichier
Origin : Files produced by the author(s)