La collection d'antiquités grecques de l'Institut d'art et d'archéologie de Paris. 2. Les figurines en terre cuite
The Institut d'art et d'archéologie of Paris have at its disposal a collection of Greek antiquities that were initially gathered and displayed in the Sorbonne. Made up of about 300 pieces this collection is now under special care within the framework of a scientific and cultural heritage program. Following a first paper dedicated to a series of Greek vases and fragments (published in JSav 2016), this second study deals with a collection of about 110 terracotta figurines. The research has been conducted along two lines: first by considering the marks inscribed on the pieces, then by studying all legal decrees and administrative archives related to these pieces. Beside a few figurines deposited by the French Republic, the majority of this research and teaching collection was acquired thanks to various gifts to the University, by the French School in Athens, by the French engineer Paul Gaudin and by the Greek merchant Elias Arapides. Unfortunately, nearly two thirds of the original collection, amounting to about 300 pieces, has now disappeared.
L'Institut d'art et d'archéologie de Paris dispose d'une collection d'antiquités grecques naguère constituée et exposée en Sorbonne. Composée d'environ 300 pièces, cette collection est aujourd'hui placée au cœur d'un programme de valorisation scientifique et pédagogique du patrimoine universitaire. À la suite d'une première étude consacrée à la céramique grecque (parue dans JSav 2016), ce deuxième volet porte sur les figurines en terre cuite. Afin de retracer l'origine de ces quelque 110 pièces, une double enquête a été menée, d'une part, à travers un examen attentif des marquages et, d'autre part, par une étude des décrets de dépôt et autres documents d'archives. Outre quelques pièces mises en dépôt par l'État, l'essentiel de cette collection pédagogique et scientifique résulte de dons présentés à la Faculté des Lettres par l'École française d'Athènes, l'ingénieur français Paul Gaudin et le marchand grec Élias Arapidès. Malheureusement, près des deux-tiers de la collection originale d'environ 300 pièces a disparu.
Fichier principal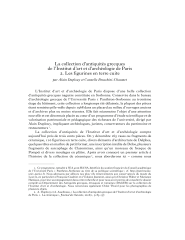 Duplouy-Bruschini 2019.pdf (7.31 Mo)
Télécharger le fichier
Origin : Explicit agreement for this submission