Bone industry among hunters-gatherers: the example of seafaring nomads from Patagonia and Tierra del Fuego
La industria ósea de los cazadores-recolectores: el caso de los nómadas marinos de Patagonia y Tierra del Fuego
L'industrie osseuse des chasseurs-cueilleurs : le cas des nomades marins de Patagonie et de Terre de Feu
In Patagonia and Tierra del Fuego, hunter-gatherer equipment made on hard materials of animal origin carries exceptional research potential, both because it lasted without major changes for thousands of years to the dawn of the twentieth century, and because it was made of a wide variety of materials from terrestrial, marine and avian animals. For various reasons, archaeological and ethnographical evidence of this bone industry is more abundant among seafaring nomads of the interior seas, fjords and channels of the Pacific coast than among terrestrial hunters of the Atlantic steppes The osseous industry of the Canoero Indians (in canoe) is at the heart of this study. It is based on the most recent methodological and practical advances on bone technology research, which greatly developed in the last decades in Europe, especially through the Prehistory teaching program at the University of Paris 1, Panthéon-Sorbonne. Beyond revising the typology, a bone technology approach is developed: Five sequential reduction schemes referring to different production methods are identified based on mammal bone artifacts and related remains; four are "débitage" (partitioning, segmentation, fracture, extraction) and one is linked to shaping ("façonnage"). The characteristics and constrains of marine mammal bone manufacturing are discussed as well as the preferential selection of guanaco leg bones. This choice of raw material is common to all hunters of artiodactyls. This research opens up new perspectives on cognitive potential provided by the analysis of hunter-gatherers' bone industry from the southern tip of America.
El equipamiento (armas, herramientas y objetos de decoración) en materias duras animales es excepcionalmente rico entre los cazadores-recolectores de Patagonia y Tierra del Fuego donde persistió con pocos cambios durante miles de años hasta comienzos del siglo XX, aprovechando una gran variedad de materiales faunísticos provenientes tanto del dominio aéreo como terrestre y marítimo. Por diversas razones, los testimonios arqueológicos y etnológicos de esta industria son más ricos entre los nómadas marinos de los mares interiores, fiordos y canales del lado pacífico, que entre los cazadores terrestres de las estepas del lado atlántico. Así, este estudio esta orientado fundamentalmente a la industria de los indios canoeros. Este trabajo se apoya en los últimos avances metodológicos y prácticos en tecnología oséa, enfoque altamente desarrollado en Europa, en particular en el curso de Prehistoria enseñado en la Universidad de París 1, Panthéon-Sorbonne. Más allá de una revisión tipológica, se propone en este trabajo un enfoque tecnológico. Se identificaron cinco esquemas operatorios utilizando diferentes principios de producción a partir de los vestigios en huesos de mamíferos de la industria arqueológica: cuatro de desbaste, destinados a la obtención de soportes (la partición, la segmentación, la fractura y la extracción) y uno de confección (façonnage). Se discuten las especificidades y las restricciones de la explotación de los huesos de mamíferos marinos, así como el uso preferencial de metapodios de guanaco para la industria, opción común a todos los cazadores de artiodáctilos del mundo. Más que una síntesis definitiva, este trabajo abre numerosas perspectivas sobre el potencial cognitivo ofrecido por el estudio de la industria en materias duras animales de los cazadores-recolectores del extremo sur de América.
L'équipement en matières dures animales des chasseurs-cueilleurs de Patagonie et de Terre de Feu est d'une exceptionnelle richesse, à la fois parce qu'il a perduré sans grandes modifications durant des millénaires jusqu'à l'aube du XXème siècle, et parce qu'il a bénéficié de matériaux variés issus à la fois des domaines terrestre, marin et aérien. Pour différentes raisons, les témoins archéologiques et ethnologiques de cette industrie sont plus riches chez les nomades marins des mers intérieures, fjords et canaux du versant pacifique, que chez les chasseurs terrestres des steppes atlantiques. C'est donc l'industrie de ces Indiens canoeros (en canot) qui est au centre de cette étude. Celle-ci est fondée sur les dernières avancées méthodologiques et pratiques en technologie osseuse, approche très développée en Europe, notamment grâce à l'enseignement de Préhistoire de l'Université de Paris 1, Panthéon-Sorbonne. Au-delà d'une révision typologique, une approche technologique est proposée. Cinq schémas opératoires faisant appel à différents principes de production sont identifiés à partir des restes d'industrie en os de mammifères : quatre de débitage (partition, segmentation, fracture, extraction) et un de façonnage. Les spécificités et contraintes de l'exploitation de l'os de mammifères marins sont discutées, tout comme l'utilisation préférentielle des métapodes de guanaco pour l'industrie, choix commun à tous les chasseurs d'artiodactyles. Plus qu'un aboutissement, ce travail ouvre de nombreuses perspectives sur le potentiel cognitif offert par l'étude de l'industrie en matières dures animales des chasseurs- cueilleurs de l'extrémité australe de l'Amérique.
Fichier principal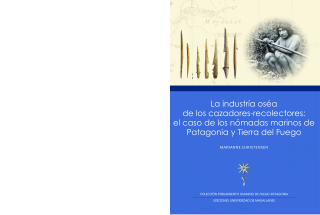 Christensen_Marianne_2016_La_industria_ósea_de_los_cazadores-recolectores_el_caso_de_los_nómadas_marinos_de_Patagonia_y_Tierra_del_Fuego.pdf (9.49 Mo)
Télécharger le fichier
Origin : Explicit agreement for this submission