Jak české soudy poskytují své rozsudky na základě práva na informace?
Applying a Right to Access to Public Information at Czech Courts to Gain Access to Court Decisions
Předložený článek představuje výsledky empirického výzkumu rozhodovací činnosti českých okresních soudů při poskytování svých rozsudků na základě práva na svobodný přístup k informacím. Jsou představena rozsáhlá data o míře dodržování lhůt k poskytnutí informací, o délce prodlení, o možnostech obrany proti tomuto prodlení či proti negativním stanoviskům povinných subjektů k poskytnutí informací, stejně tak o výši požadované úhrady za poskytnuté informace. Základ článku je empirický, ovšem následuje řešení normativních otázek, kdy autor článku kritizuje dvě různé judikatorní linie udržované Nejvyšším správním soudem, které vedou ke zbytečnému omezení práva na informace žadatele, aniž by zde byla racionální protihodnota plynoucí z tohoto omezení.
This article presents results of empirical research focusing on the question of how Czech district courts provide their judgments to individuals based on their requests using right to access to public information. I present datasets on how the courts adhered the deadlines prescribed by the law, the length of their delay, reasons why some courts refused to provide the information and also the amount of payment requested for the information. The basis of the article is, therefore, empirical, but its conclusions are normative, as its core is critique of two branches of case law of the Czech Supreme Administrative Court, which unnecessarily restrict right to access to public information without corresponding improvement on the side of other countervalue.
Fichier principal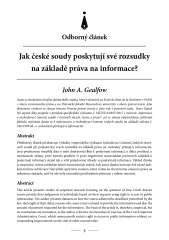 poskytovani-informaci-soudy[1].pdf (620.14 Ko)
Télécharger le fichier
Origin : Files produced by the author(s)